Our Story
Founded in 2005 by Marie Magré, Stichting 4Kenia evolved from a dream to a thriving healthcare College in Kenya, dedicated to accessible healthcare and empowering a new generation of healthcare workers.
It all started with a dream in 2005 ...
When Marie Magré, the Dutch Founding Director of Stichting 4Kenia was only five years old, she used to tell her parents, "When I grow up, I want to live in Africa and help people."
It took her another 30 years to set foot in Kenya for the first time.
Marie fell in love with Kenya's beauty and felt a strong connection to the country and its people. This was what she had been looking for while exploring different studies, careers, and countries; She felt at home.
When she returned to Amsterdam, she set up the Dutch "Stichting 4Kenia" Foundation with the goal of promoting education for under privileged youths in Kenya. Marie and friends began raising awareness and raised funds within their own network by arranging a big auction at the Van Gogh Museum and running half a marathon in a yearly charity run in Amsterdam. The funds raised were used to support the construction of classrooms and water tanks for the Kidomaya and Munje government primary schools in Kwale County.
At that time Marie was still living and working in Amsterdam, only visiting Kenya to officially launch the primary schools in 2005 and 2006. During these Schools' celebrations, she noticed a severely sick patient lying on the ground under a tree. This woman was progressively suffocating and was in a dangerous situation because she didn't have the money to seek medical attention. Marie had her taken to a neighboring health facility and after being treated, her life was no longer in danger. As a result of this encounter, Marie began to focus on ways to improve affordable and accessible healthcare in Kenya's remote areas.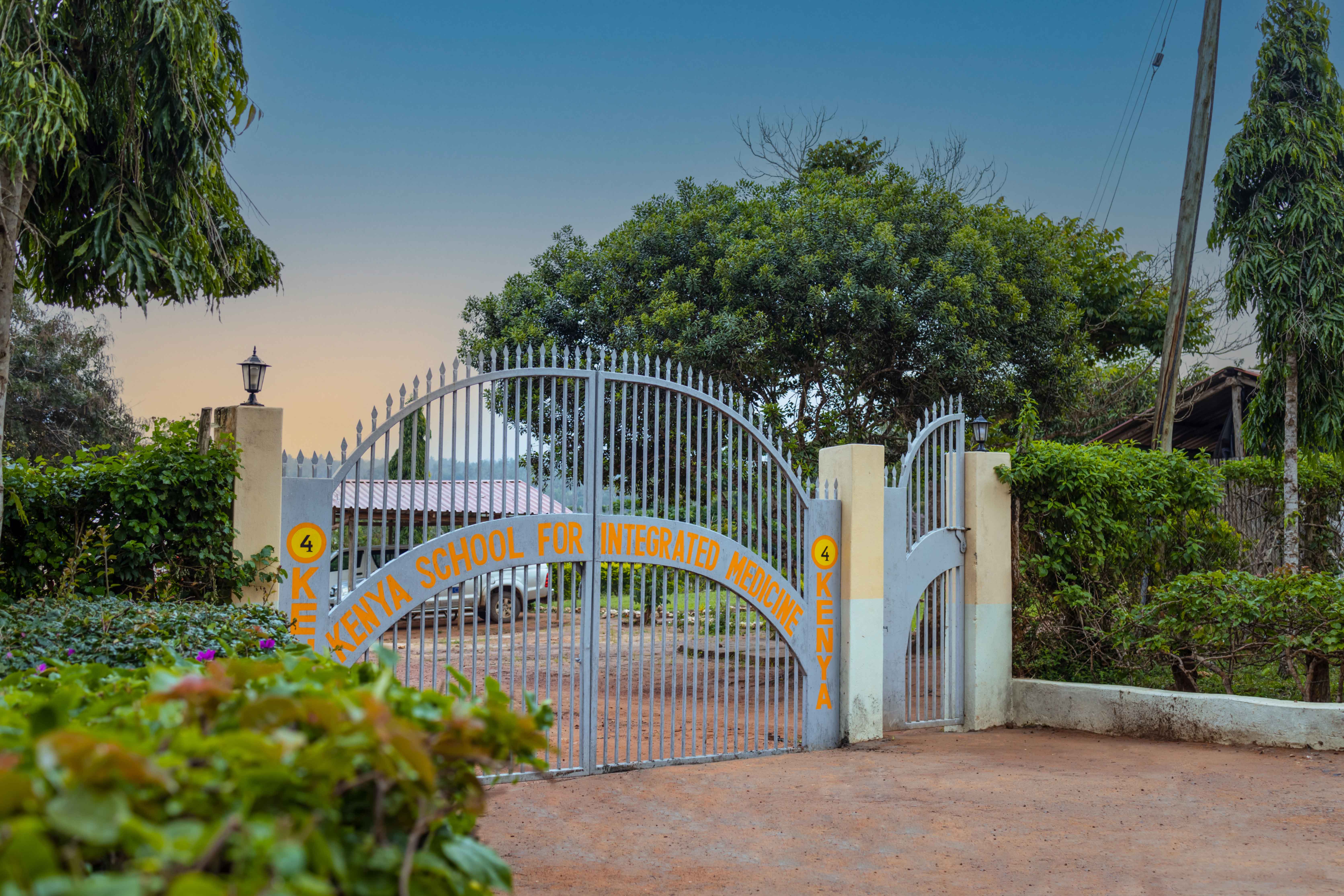 A journey of a thousand miles begins with a single step
In the beginning of 2007 Marie received approval from the Kwale County Ministry of Health to arrange two medical pilots in the same primary schools. Hundreds of patients were treated successfully with homeopathic medicines during these pilots and the dream began to grow.
"Give a Man a Fish, you feed him for a day. Teach a man to fish, you feed him for a lifetime"
The TVET accredited College "Kenya School for Integrated Medicine" opened its' doors in October 2007 under the auspices of the Kenyan Trust known as "4Kenia Trust Registered Trustees." This is the literal English translation of the Dutch "Stichting 4Kenia", which was founded to emphasise the Trust's goal of raising funds for education in healthcare within Kenya. The first 16 female secondary school leavers were selected and started the three-year Diploma course.
Our mission is to develop a new generation of healthcare workers and to advocate for the provision of accessible, affordable, and effective healthcare for all Kenyans.
The School is the only private Health College in Kwale County. The College embraces the Competency Based Education Training (CBET) with the capacity to train and accommodate more than 300 future Health Workers a year. In 2015 we expanded our curricula by offering Community Health and Nutrition & Dietetics. Since 2018 we have been accredited to train students in Social Work & Community Development, Counselling Psychology and Horticulture Nursery.
We are happy to be a one-of-a-kind Health College and like to call ourselves the "4Kenya Family", since we consider all of our students and staff as family.
Marie Magré
DIRECTOR
Welcome to Kenya School for Integrated Medicine.
‍
I feel privileged to be part of our students' educational journey and like to wish you all the best, as you embark on a new chapter.

Please remember that you are the Architect of your own life.
You have a choice to shape it in the way you envision your world to look like. If you want to make the world a better place, you'll have to believe in your dream and work hard to transform yourself, your family and the community you live in.

During your education with us, you will obtain all the Knowledge and Skills you need to improve the health standards within your community.
We will emphasise on your Attitude to make you stand out from others.
This increases your chances of finding and creating jobs.

We're proud of our students and graduates helping us realising our mission to support the provision of accessible, affordable and effective healthcare for all Kenyans.